Skip to Main Content
It looks like you're using Internet Explorer 11 or older. This website works best with modern browsers such as the latest versions of Chrome, Firefox, Safari, and Edge. If you continue with this browser, you may see unexpected results.
StoryTme From Space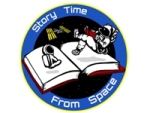 Books read by astronauts while in space.
(On their website, click on the title of the book not the image)
Unite for Literacy
Ebooks wrtten in English and Spanish with the option for audio read aloud in a variety of languages.